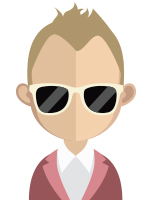 In my hometown I often passed with my bycicle in front of a company which has a beautiful Windows with a DJ headphone logo on it. I was looking for a job which I needed, music was my passion, so I decided to call them to find some hope... The day after I was working!!!
Since 1997 I started to dedicate my time to the world of events thanks to the school I have learned in some agencies in the industry. And from nothing in 2008 I have founded Mc Production..

Mc Production is able to offer all what is necessary to create an unforgettable event, always putting on the first place the establishment of a relashionship with the clients, based on full faith : from the supply of audio and video and light systems to projecting on scenography and scenes; even production of video, graphic and music. Mc Production directs the technical preparation from the projection through the realization until directing of a whole event.
By increasingly focusing more and more on the creative ideas and technical consultation, Mc Production claims managing the event completely and indipendently, constantly searching for new solutions which will satisfy the clients.